Quinto capítulo de la última temporada de 'Game of Thrones': "The Bells"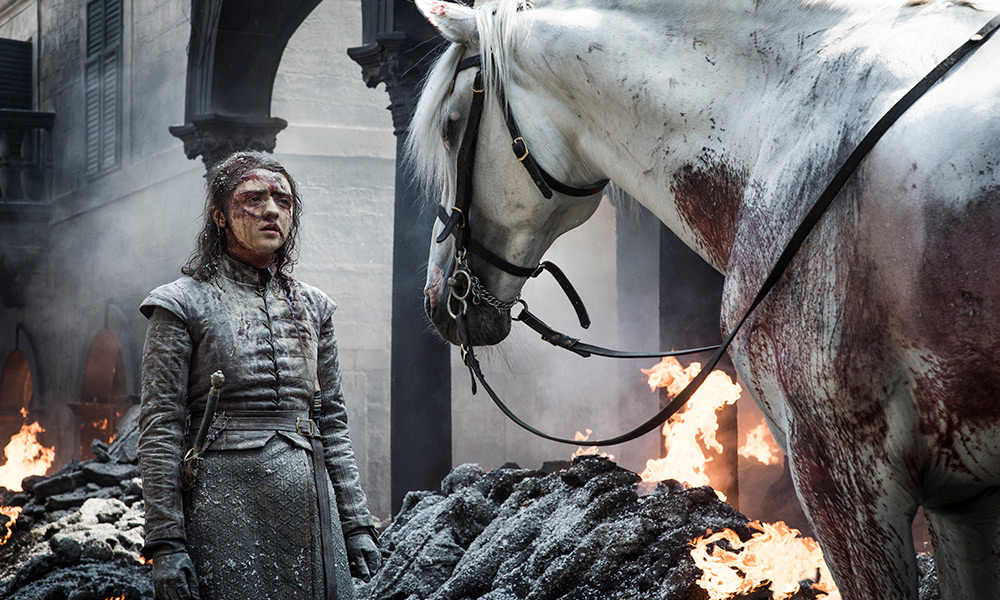 Después de varios episodios llenos de críticas, errores que llenaron el internet de memes y fanáticos furiosos porque sus personajes favoritos no estaban teniendo los resultados que esperaban, el quinto capítulo de la última temporada de 'Game of Thrones' dejó claro que lo que sucede en esta serie tiene como objetivo que la tensión y la desesperación de una guerra se pueda sentir a través de la señal de HBO.
La obsesión por el trono llevó a Daenerys Targaryen a cometer lo inimaginable en este penúltimo episodio, que fiel a la costumbre de 'Game of Thrones', el penúltimo capítulo de cada temporada tiene una guerra o muertes muy importantes.
En este caso, fue una mezcla perfecta de ambas.
Dragonstone
El capítulo arranca con Varys tratando de convencer a Jon Snow, quien acaba de llegar a Dragonstone, de que tome la decisión correcta y que busque quedarse como el gobernante de Westeros, algo a lo que Jon contesta de forma negativa.
Daenerys, pálida, sin haber comido en días y con una evidente desesperación y coraje, le avisa a Tyrion que ha sido traicionada por Varys, uno de sus más "fieles" consejeros.
La madre de los dragones reconoce esta traición como suficiente pretexto para ejecutar a Varys utilizando a Drogon para matarlo frente a Jon, Tyrion, Grey Worm y un grupo de soldados.
Después de ese "Dracarys", el último que escuchó con vida Varys, Jon se queda perplejo, con una mirada que mezcla desilusión e incredulidad.
Tras la ejecución de Varys, la reina Targaryen se reúne con Grey Worm, a quien le entrega el collar de esclava que pertenecía a Missandei. El líder de los 'unsullied' lo arroja al fuego, seguido de la llegada de Jon a la habitación en la que se encuentra Daenerys.
Daenerys le deja claro a Jon que ya no hay amor hacia ella en Westeros, solamente miedo.
Pero aún después de escuchar que Jon la ama, Dany no le cree a Jon, por lo que se acerca a darle un beso, tratando de descifrar si el amor de Jon es real.
No sólo Jon la confronta, dejándola más molesta de lo que ya estaba; Tyrion la visita en el trono de Dragonstone para hablar de la guerra que se avecina.
En esta discusión, la madre de los dragones ordena a Grey Worm preparar a su ejército para atacar 'King's Landing'.
La "mano de la reina" le ruega que detenga el ataque en caso de que la ciudad se entregue y le deja claro que esto sucedería si se escucha el sonido de las campanas de la capital.
Daenerys accede, pero no deja que Tyrion se aleje sin una amenaza más, pues lo acusa de haberla asesorado de forma errónea, pues Jaime Lannister ha sido capturado por el ejército de los 'unsullied'.
Esto provoca que Tyrion engañe a los soldados que resguardan a su hermano y lo tienen como prisionero. La reunión de los hermanos Lannister se convierte en uno de los momentos más emotivos de la temporada, pues el enano Lannister le agradece a Jaime por nunca tratarlo como un monstruo al igual que el resto del mundo.
En esta reunión, Tyrion libera a Jaime, no sin antes contarle su plan: lograr entrar a la Fortaleza Roja para salvar a Cersei y hacer que entregue la ciudad tocando las campanas.
King's Landing
Al día siguiente, ambos bandos se preparan para la batalla.
El ejército de Cersei rodea la ciudad con arqueros, catapultas y lanzas capaces de matar al último dragón que le queda a Daenerys. Asimismo, Euron Greyjoy y su flota esperan en el mar preparándose para el ataque.
Sandor Clegane y Arya Stark se infiltran en 'King's Landing' con paso firme y en busca de la reina Cersei y 'The Mountain', hermano de 'The Hound'. Ellos no son los únicos que entran tratando de pasar desapercibidos, Jaime entra al mismo tiempo para tratar de convencer a su hermana de entregar la ciudad.
La Compañía Dorada espera la llegada del ejército enemigo, armados hasta los dientes y viendo frente a frente a los sobrevivientes de la batalla de Winterfell, un grupo de soldados del norte mezclado con 'dothrakis' y 'unsullied' comandados por Jon Snow, Ser Davos y Grey Worm.
Desde la Fortaleza Roja, Cersei admira con calma lo preparada que está en caso de que el ataque se llegara a consumar.
Clegane y Arya llegan justo a tiempo para entrar a 'The Red Keep', pero Jaime no lo logra, por lo que tiene que tomar una ruta alterna.
Cuando todos parecen estar listos para la guerra, Drogon, montado por Daenerys se acerca a toda velocidad llenando de fuego la flota de Euron Greyjoy y acabando con todos y cada uno de los barcos.
Drogon y su madre no se detienen y siguen lanzando fuego sin parar para no dejar ni una sóla de las armas (escorpiones) que mataron a Rhaegal disponibles.
El fuego llega hasta la entrada de la capital, donde la 'Golden Company' queda completamente destruida abriendo paso al ejército de Jon y Grey Worm.
Entre 'dothrakis' en caballos y soldados que avanzan corriendo, las emisiones de fuego de Drogon no cesan, por lo que se vuelve evidente que la madre de los dragones está ganando la batalla sin importarle cuantos soldados enemigos pierdan la vida.
A lo lejos, Cersei empieza a preocuparse al ver el dragón que va llenando de fuego poco a poco la capital. Qyburn le informa de las pérdidas en armamento a Cersei, pero la reina se mantiene confiada en la capacidad de su ejército.
Un momento lleno de tensión se vive cuando el ejército que entró a la ciudad, comandado por Jon, Ser Davos y Grey Worm se detiene a unos cuantos metros del ejército Lannister. Al mismo tiempo, Drogon y Daenerys detienen el vuelo para intimidar a los soldados enemigos desde las alturas de la ciudad.
Esto provoca que el ejército Lannister se rinda, tirando al suelo sus espadas en señal de rendición, mientras se escucha en toda la ciudad el grito desesperado que pide que alguien toque las campanas, lo que le da el título al quinto capítulo de la última temporada de 'Game of Thrones', "The Bells".
El sonido de la paz por fin se escucha en la capital de Westeros.
La campana se mueve pero esto, en lugar de obligar a Daenerys a calmarse, parece llevarla a la locura en búsqueda de venganza.
Así, la reina de los dragones que en algún momento juró que no gobernaría una ciudad en cenizas, sobrevuela 'King's Landing' de forma amenazante hasta que el hocico de Drogon se abre emanando fuego para quemar a cualquiera que se mantenga en la ciudad, incluidos todos los inocentes ciudadanos que buscan resguardo.
Pero Daenerys no es la única que parece haber perdido la cordura: Grey Worm hace caso omiso a la rendición de los soldados enemigos y usa su lanza para matar al primer contrincante que tiene frente a él.
Esto provoca que los soldados que lo acompañan, sigan con la matanza a pesar de que Jon les exige que se detengan.
En una ciudad completamente desesperada por la masacre que se suscita, entre cuerpos de inocentes y gritos de desesperación Ser Davos y Jon intentan proteger a los ciudadanos inocentes.
Algo que incluso lleva a Jon a matar a uno de los soldados que lo acompañaban, pues lo encuentra a punto de abusar de una mujer.
Pero Daenerys no se detiene… Sigue usando a Drogon para quemar cada rincón de 'King's Landing'.
Jaime Lannister por su parte, trata de llegar a Cersei a través del camino que Tyrion le explicó que podría usar para escapar.
Pero ahí se encuentra a Euron Greyjoy, con quien pelea utilizando una espada que encontró en la ciudad. Mientras Daenerys sigue quemando todo lo que encuentra a su alrededor con el fuego de Drogon, Euron y Jaime sostienen una pelea sangrienta y llena de puñetazos y patadas.
Todo parece terminar para el 'kingslayer' cuando Euron lo apuñala en un costado del torso.
Por segunda vez, Jaime es apuñalado hasta que logra llegar a la espada, la cual usa para matar a Euron, quien, a pesar de recibir un espadazo letal, se mantiene orgulloso y grita sus últimas palabras: ''soy el hombre que mató a Jaime Lannister''.
Entre escombros y cenizas, 'The Hound' y Arya se detienen.
Clegane convence a la menor de las hermanas Stark de volver para salvarse. Esto provoca que Arya confíe en él y huye dejando atrás su sed de venganza por matar a Cersei.
Qyburn vuelve a visitar a su reina para pedirle que busque resguardo. Entre lágrimas, Cersei decide acompañar a su asesor junto con 'The Mountain'.
Mientras tratan de escapar, las paredes y columnas empiezan a derrumbarse por los ataques del dragón de Daenerys. En esas escaleras Cersei y compañía se encuentran a Sandor Clegane.
Esto provoca que, por más que Cersei y Qyburn le exigen a Gregor Clegane que proteja a su reina, el instinto del monstruo lo lleva a matar a Qyburn y enfocarse completamente en pelear contra su hermano.
Así, se presenta uno de los momentos más esperados del quinto capítulo de la última temporada de 'Game of Thrones': la pelea entre los hermanos Clegane, 'The Hound' y 'The Mountain'.
Esta pelea lleva a que incluso con una espada clavada en el pecho, Ser Gregor se mantenga con vida como el monstruo que es, despojándose de su armadura para seguir atacando a su hermano.
La pelea persiste con 'The Hound' siendo golpeado con toda la intensidad de los puños del hombre más fuerte de Westeros.
'The Mountian' ahorca a su hermano mientras él lo apuñala más de cinco veces sin provocarle daño alguno. Igual que como mató a Oberyn Martell, Gregor Clegane busca aplastarle el cráneo a su hermano, quien logra apuñalarlo una última vez en el ojo, alejándose lo suficiente para correr, abrazarlo y caer al vacío con él, provocando la muerte de los hermanos Clegane.
Jaime y Cersei se encuentran y se unen en un abrazo de amor y desesperación, ahí, la reina Lannister se da cuenta que su hermano está malherido y caminan lo más rápido posible buscando escapar.
Cuando los hermanos Lannister llegan al túnel que los llevaría a escapar, se dan cuenta que se ha convertido en un camino sin salida por los escombros que la destrucción de Daenerys ha provocado.
Entre lágrimas, Cersei le pide a Jaime que la salve para que su bebé se mantenga con vida.
El 'kingslayer' se da cuenta que no queda otra salida más allá de esperar una muerte inevitable.
Poco a poco el derrumbe continúa.
Y así, aplastados por los escombros, se da la muerte de Cersei y Jaime Lannister abrazados y siendo sepultados en 'King's Landing'.
El camino de Arya por escapar se torna cada vez más complicado y desesperado, entre escombros, cuerpos quemados y gente desesperada corriendo, la menor de las hermanas Stark cae entre el tumulto.
Una mujer le ayuda a Arya a levantarse, pero otra explosión provoca que caiga inconsciente. Cuando la asesina Stark por fin reacciona, llena de sangre y polvo de los escombros, intenta encontrar resguardo mientras a sus espaldas se desmoronan edificios, cayendo una vez más.
La desesperación de Arya la lleva a entrar a una habitación donde mujeres, ancianos y niños tratan de protegerse. Pero Arya sabe que no puede dejar que mueran ahí, por lo que los convence de seguirla a pesar de que afuera no hay más que muerte y desesperación provocada por un grupo de 'dothrakis' que cabalgan matando a todos los que ven.
La mujer que previamente había salvado a Arya y su hija tratan de huir con ella hasta que el fuego de Drogon calcina completamente a la niña y a su madre.
Nuevamente Arya se levanta, ahora con una evidente desesperación y al parecer, completamente rendida, camina entre cenizas, escombros y cuerpos quemados.
La figura de la mano de la niña con su caballo de juguete dejan impactada a Arya, quien encuentra un caballo en la soledad de la masacre de Daenerys.
La 'última guerra' concluye con Arya montando el corcel blanco para salir de la ciudad que Daenerys, su dragón y su locura han dejado convertida en un cementerio de fuego.
Bajo la dirección de Miguel Sapochnik, el quinto capítulo de la última temporada de 'Game of Thrones' se convierte en el episodio que deja marcados a los pocos personajes que sobreviven para ver cómo Daenerys Targaryen ha perdido la razón y se ha convertido en una Targaryen más.
Así como toda la serie escuchamos hablar sobre el 'Rey Loco', padre de Daenerys, ahora queda claro que Westeros es gobernado por Daenerys 'la Reina loca' Targaryen y sus ejércitos de 'unsullied', 'dothraki' y un dragón.